---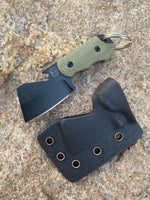 BergBlades Bottle Butcher is a perfect Everyday Carry Item. It has a sharp functional edge that can be used for your daily cutting needs. This small key chain knife is paired with a bottle opener on its spine. The cut out on spine allows you to pop tops while in sheath (recommended opening bottles with sheath on to avoid getting cut). 

Ive been using the proto-type for over 4 years and its one of the most handy tools I carry. Ive used the Bottle Butcher for cutting boxes open, opening mail, cutting rope while hauling items, while fishing because I forgot snips, to popping a beer open and cutting a lime while sitting by the pool. 
Spec :
3 inch overall length, 1.25 inch cutting edge
440c stainless steel, Black stonewash
Green Micarta handles
Stainless steel hardware
Kydex sheath with key-ring
Bottle Butchers are a manufactured and not handmade.
Bergblades will ship internationally for an additional charge. Item cannot be tracked once it leaves USA, Bergblades will not be responsible for package/Item once it has been shipped. 
Liability Terms: THE BOTTLE BUTCHER IS A BOTTLE OPENER AND KNIFE. THE BOTTLE OPENER WAS DESIGNED TO BE USED WHILE IN KYDEX SHEATH. THE BOTTLE BUTCHER SHOULD REMAIN IN SHEATH WHILE OPENING BOTTLES, CARRYING IN PANTS, SHORTS, SHIRTS OR WHILE STORING. OTHER USE OUTSIDE OF DESIGN MAY RESULT IN SERIOUS INJURY OR DEATH. BERGBLADES WILL NOT BE LIABLE FOR ANY DAMAGE OR INJURY AS A RESULT FROM USE OR MISUSE OF ANY BERGBLADES PRODUCTS. IT IS THE RESPONSIBILITY OF THEY BUYER/OWNER TO HANDLE THE KNIFE/BOTTLE OPENER HE/SHE PURCHASES WITH CARE AND ITS INTENDED USE AS A TOOL.
Must be 18 or older to purchase and know your current state laws regarding knives.
Manufactured by WE knife